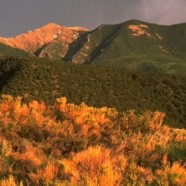 We work with private, government and nonprofit clients to achieve innovative conservation solutions in arenas ranging from transportation to energy to community planning. We combine valuable technical expertise with collaborative problems solving for clients interested in efficiency, economy and ecosystem health. At ECO-resolutions, we are committed to practical and economical conservation results founded in the most recent scientific research and knowledge.
A woman-owned ecological resource consulting company based in Golden, Colorado, ECO-resolutions also has a unique specialty in the field of road ecology, specifically, wildlife crossing siting and design, monitoring, and mitigating clashes between motorists and wildlife.
About
Julia Kintsch, Founder and Conservation Ecologist
Certified Ecologist, Ecological Society of America
Julia is is an ecologist specializing in conservation planning, road ecology, large landscape conservation and collaborative problem-solving. Julia brings diverse groups and interests together to foster integrative conservation achievements. Following an active career working for non-profit  organizations such as the Nature Conservancy, Southern Rockies Ecosystem Project and Freedom to Roam, in 2008, she launched ECO-resolutions LLC.
Julia has received awards for her work in conservation planning, and is recognized across North America as an expert in wildlife crossing siting and design, offering a unique understanding of the features that influence successful passage for  species ranging from salamanders to deer to the elusive Canada lynx. She has extensive experience in developing guidelines and recommendations for road-wildlife mitigation.  Julia has designed and implemented collaborative processes involving heterogeneous stakeholder groups and engaging public participation, so that parties may move their projects forward towards tangible outcomes. She has organized and taught workshops and conferences to improve communication and information sharing among diverse professions, possessing a keen awareness of the needs and concerns of biologists, planners and engineers. She conducts her work in the context of larger planning processes and economic interests to ensure that wildlife needs are met in an ecologically effective, efficient and sustainable manner to promote environmental streamlining and prevent project delays.
Julia is a Certified Ecologist endorsed by the Ecological Society of America. She graduated with a bachelor's degree from the University of Colorado at Boulder and later attended Duke University, where she received a master's degree in conservation biology and landscape ecology. Her project work has its roots in field analysis, research and monitoring. Early in her career, Julia was a Peace Corps volunteer working in environmental education in Senegal, West Africa. When not at work, Julia enjoys mountain biking and backcountry skiing in the Rockies and beyond.
GIS Services
ECO-resolutions regularly collaborates with Rocky Mountain Wild to provide geographic information system services. Their expert staff provides high quality GIS analysis and mapping services on our projects as needed.