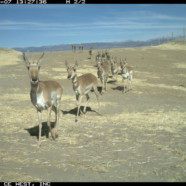 Seeing is believing, and these pronghorn are clearly telling us that the answer is yes. They are crossing over one of two new (since 2012) wildlife overpasses constructed over Highway 191, west of Pinedale, Wyoming. These overpasses, along with 6 underpasses and 12 miles of 8-foot high wildlife fencing, are part of an impressive mitigation project led by the Wyoming Game and Fish Department and the Wyoming Department of Transportation, in partnership with a number of other agency, corporate and non-profit organizations. These mitigation efforts help to restore a connection at Trapper's Point – a critical bottleneck in the migratory route famously known as 'The Path of the Pronghorn' – and will help thousands of pronghorn and mule deer to safely cross the busy highway, while preventing wildlife-vehicle collisions along this dangerous stretch of roadway.
Here is a video posted by WYDOT. Jump to around 2:00 to see a large herd of pronghorn as they flow across the overpass. Scroll a little further, and you'll see another group repelling from one of the newly constructed underpass. So is that a failure? Actually, no. Pronghorn are speedy, but they are also quite wary, and generally uncomfortable using the more constrained feeling underpasses. Thus, the overpasses. And the underpasses are still put to good use by deer, elk and other species. Will the pronghorn ever become accustomed to using these underpasses for their seasonal migrations? Maybe… we'll have to watch and see.
Image © Hal Sawyer, West, Inc.