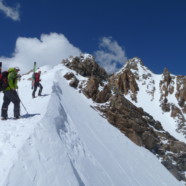 Collaboration, it turns out, has evolutionary advantages, and humans aren't the only species that benefits from acting in cooperation with one another. According to the cover story in the latest issue of Scientific American, cooperation has driven evolution since the very beginnings of life on this planet. The classic example in nature is that of the beehive – worker bees all cooperating to support their queen and, thereby, perpetuate their hive. Elephants collaborate by gathering together to protect their young in the face of a predator.
We humans have a long history of engaging collaboratively. Working together –across disciplines, across communities and across international boundaries  – we have explored deep into the ocean and far into the solar system. The authors even go so far as to label humans as 'super cooperators'. How else could our species produce civilizations that have protected one another from harm and erected massive monuments to the gods?
Yet collaboration is far from selfless. Indeed, the motivation for engaging cooperatively is steeped in advancing one's own objectives, the benefits of collaboration outweighing its risks and complications. Nor does collaboration mean that we all get along all of the time. It does, however, allow us to form alliances for the purposes of shared goal, be it peace, overcoming a common enemy, or developing a joint initiative. Collaboration isn't the best path forward in every situation. If your competitor is bearing down on you with spears or firearms, sitting down to establish cooperative dialogue likely won't get you very far. Yet, as our own evolution has shown us, knowing when collaboration is appropriate can lead to big steps for mankind.